Benefit
1

Integration of Field Service Data
CSOne stores all information within a common location in a common format, regardless of the technician or repair shop that manages this information. As such, anyone is able to enter the information, allowing for a smooth transfer of data (such as customers, contracts, and equipment) between divisions and technicians.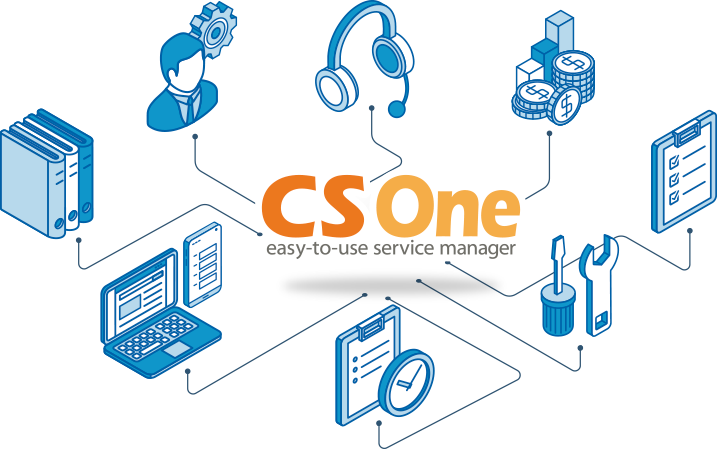 Cross/Up selling opportunity will raise service revenue.

11%
UP
Maintenance cost

6%
Down
Benefit
2

Visualizing Task Progress and Technician's Schedules
The new visualization of technician's schedules as well as their progress on tasks makes it easier to find a technician to work on the next task.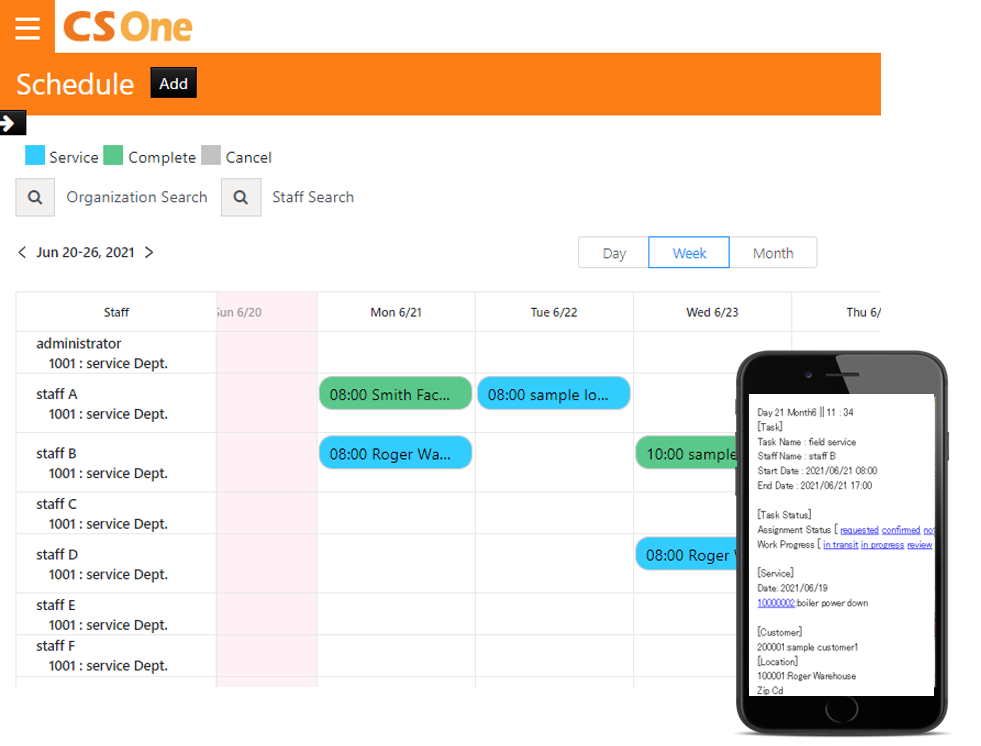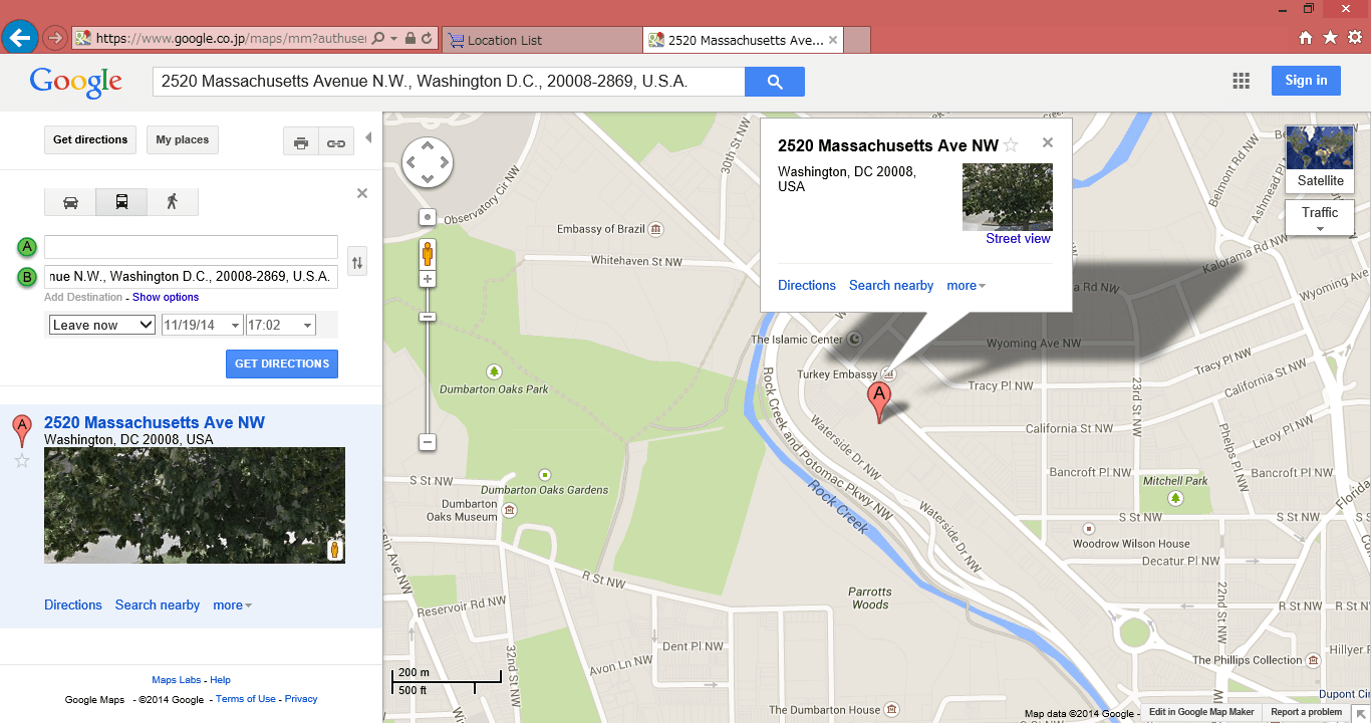 Reduction of Idle time will raise service revenue.

14%
UP
---
CSOne also provides faster customer service as the clerk will be easy to find all needed information within CSOne. As such, the clerk or dispatcher will not have to call many different technicians to find out their ability and inform the customer.
It is also possible to view the maintenance history, improving the effectiveness of the service received for customers even while at the early stages of requesting service.
Benefit
3

Preventive Maintenance & Up-Selling Opportunity
Preventive maintenance plans are generated considering all factors such as previous maintenance history, standard operation data of the equipment, and maintenance cycles determined for each maintenance unit. This will reduce the downtime of the customer's equipment and helps both customers and your service team to plan resources and budgets.
CSOne also manages contract terms and the service level agreements of maintenance contracts of regular inspections of each equipment under the contract.

Benefit
4

Using E-Signatures and Mobile Devices to Reduce Paper Waste
Technicians are able to access the system via mobile devices. This allows them to prepare service reports and quotes while on the go. It additionally allows for electronic signatures, a feature which eliminates the need for paper.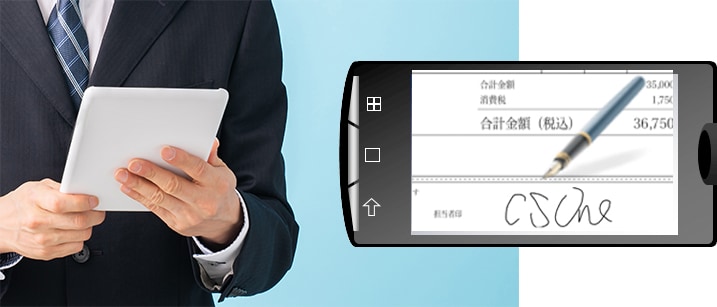 Improve efficiency

10%
Down
Reduce time to prepare service report (12m per ticket to 5m)
Benefit
5

ERP: Sales & Procurement Management
CSOne seamlessly manages sales process from quotation, sales order, delivery, billing, and cash receipt. As the document stage is managed per business case, it is easy to check the task status for each case, including tasks which still need to be completed and quotes that must be sent.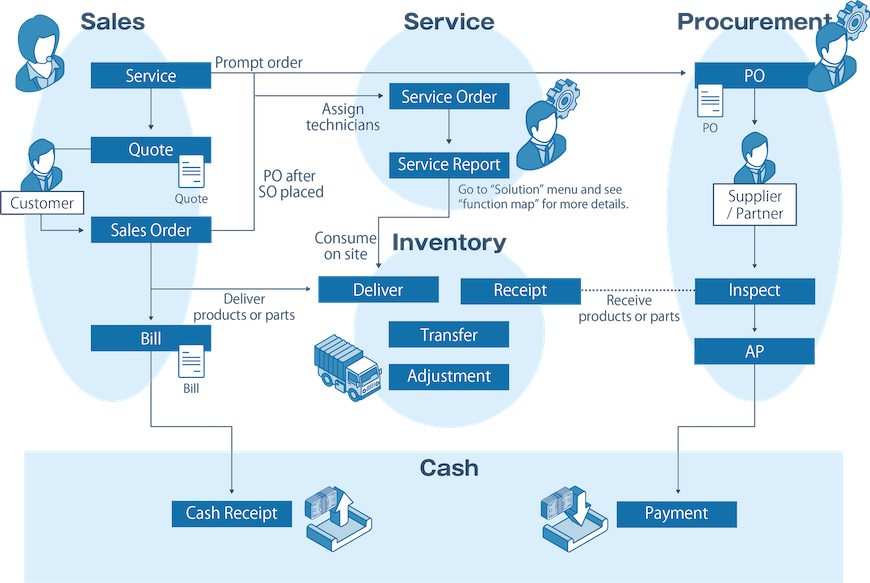 There is an advanced search function for easy viewing of data. You can also download all data via csv or take advantage of the rich-sort function or various viewing settings on the data-viewing screen. You can print or digitally output bills, service reports, and quotes.